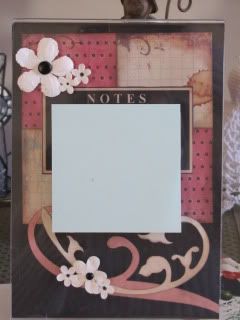 Here is an easy and special gift that anyone can make and give away! It is a post it note holder that a is 4 x 6 clear frame with a post it note pad on the outside of the frame. It is a nice desk decoration that is both functional and pretty.
I simply decorated a 4 x 6 piece of Card stock and made the center section for the post it note pad. I pieced the 4 x 6 piece about 80% and then put in the frame. Then I continued to decorate with some flower embellishments and the note pad on the outside.
The note pad can be replaced when used up as well. I just used a good strong glue strip to hold it in place and that could be repeated.
If you have any questions or would like the complete directions for this project, please email me at dinaloves2scrap@bellsouth.net.