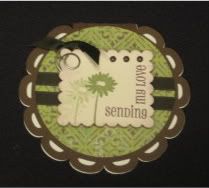 I wanted to share this simple round card to show how it doesn't take much to really say a lot. This is a sympathy card with basic chocolate, creme and olive colors. I cut the circle scalloped card out with my Cricut! LOVE IT! And then stamped with
2nd and 3rd generation stamping to create a soft and easy effect.
Remember that in card making, it doesn't have to ornate to really communicate a special feeling or emotion to the recipient. Close to my Heat always says, Faster, Simpler, Easier. Let me show you how!