Tuesday, January 19, 2010
Please see below a layout made with our new Topstitch Level 2 paper pack. I really love the details and the colors. Chocolate, Heavenly Blue and Baby pink really isn't just cute but also whimsical. And the Flip Flaps! Can't get enough of our Flip Flaps. If you would like to see more of our new paper and products, just email me and I will send you our new Idea Book!
Posted by

Dina Glass
at 6:25 PM
No comments:

Tuesday, January 12, 2010
Happy New year to everyone and I must ask for forgiveness for the lengthy time it has been since I have posted. The Holidays were very busy for us with all the usual and my oldest daughter buying her first home. Boy am I glad she is finally in and settled!!!!
I WAS able to get in our "Felicity" National Paper Crafting month package and totally fell in love with the paper, special cut outs and the stamp set that is all included in the package. Here are a few things that I have made with this wonderful set.
A card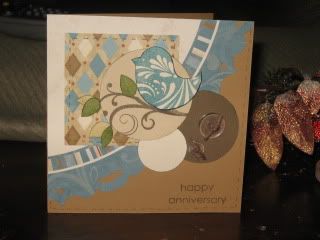 A dry erase board
The dry erase board is just a 12 x 12 layout placed in a scrapbook frame where you can use the glass for the writing with dry erase markers. I must say these gifts were a hit. Please let me know if you would like more information on how to make these.
Posting again soon, Dina:)
Posted by

Dina Glass
at 1:39 PM
No comments: