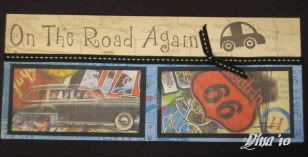 Even men like getting cards, especially hand made ones just for them! Here is a Birthday Card I made with scrap pieces of paper and a little ribbon. The print
B&T paper had some cute pics left in it to spotlight, so I cut those out and framed them.
The title, stamped with some of CTMH's letters - "On the road again" inside, " to another Birthday" really seemed to go with the paper! and of course the added Love Bug stamp for a special effect! I know you may not see it but there are some candles hiding in between the car and road sign for some birthday humor.
Remember, anything is possible and you can do it with a even scrap pieces of paper!