Here is another 2 page layout from our beach vacation. I loved the way these sunset pictures turned out and our Moondoggie paper was the perfect paper.
The picture below is showing a special technique called crosshatching.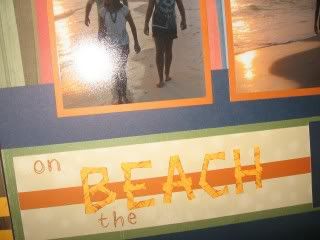 To do this technique, find a scrap piece of card stock, about 2 inches long and at least 2 inches thick (so it is easy to hold in your hand). Then take your stamp pad and run the edge of the card stock piece across the stamp pad. (please note that you can use the same color ink as the paper you are applying this technique or as I did above a coordinating coloring) Next you will take the card stock piece with the ink on its edge and use chopping type strokes on the edge of whatever you want to use this technique on. Change direction with your chopping strokes. First up and down and then to the right and then to the left. It will make an "x" or cross type lines on the edge of your paper. You will need to "re-ink" your card stock piece several times during this whole process and do as much or as little "cross hatching" as you wish. It is always best to start off with less and then you can always add more.
If you would like to know more details on how to this technique as well as other stamping techniques, please email me and I would love to "show you how" at your own gathering or workshop. And you can earn FREE product as well. Just email me at dinaloves2scrap@bellsouth.net.