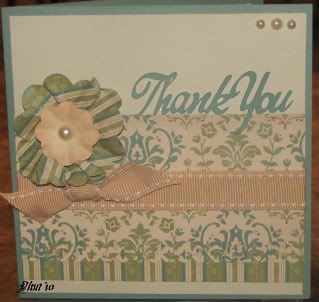 We just had our 3rd annual Food Fair at my place of work, a Jewish Temple and once again it was awesome! The food was outstanding and we had such a crowd that we ran out of food!
I made this card for each of our wonderful Food Fair Chairs, Alison, Marilyn, and Sherron. Three great ladies who worked hard for several long months.
I used our new Veranda creative basics paper, that I feel is both elegant and classy for any look. The colors are so pleasing! I also wanted to try a new flower technique with spraying paper circles, crumpling and then accordion folding to make a flower. This technique was carefully laid out in the latest April issue of Scrapbooks, Etc. magazine. Try it. It is really not hard at all.
Thank you again ladies for ALL you do! Love, Dina:)