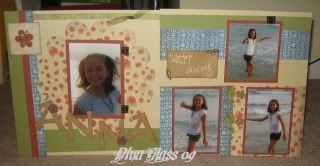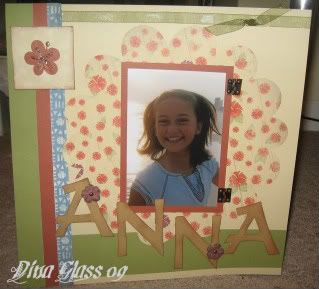 I do love making pages but not trying to photo the pages! I want the pics to look as good (I hope) as the layouts in person.
Here is my Anna Boo! This is from our vacation album that I am working on for our summer 09. I just love this picture of her! So therefore, she is center stage. I also included some others of her and they frankly looked liked she was "water dancing"!
I wanted you to see some of the details which included the popped up lettering(using my cricut) and how I distressed the edges of the letters as well. Some details like this can really add to your pages.
If you can see - there are a couple of hula girls on page 2. Once again, the cricut and I thought a nice touch to go with her dancing pictures.
Remember, that I can always "Show you How" to do all kinds of layouts and techniques, so email today and let's set up a party or workshop. The first one that emails and references this blog, will receive a special gift from me!
Happy scrappin'
dinaloves2scrap@bellsouth.net