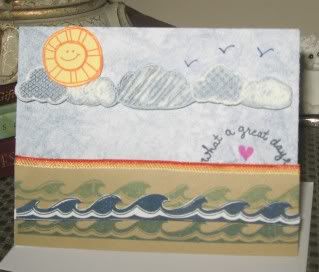 I really enjoy making cards. And since I do, I can NO LONGER buy them so.... I have to make them.
Here are two new ones that I created myself. I love our Close to my Heart Stamps. They are sooooo versatile. You can stamp, you can stamp and cut out and you can make pattern paper with them too. With the first one that I call - What a great day card, I used our True Happiness stamp set for the waves and the clouds. I stamped the waves twice and then used pop dots to give it some dimension. With the clouds I cut them out and then used liquid applique to spice them up. Along with the Sun, I pop dotted them too.
The Merci card, I used our Friendship Blessings stamp set and random stamped the flowers in two different sizes and colors. I then added some sparkles to give it bling!
Always remember that I will be happy to show you how to make these cards and other layouts with these special effects. It is not hard, so give me an email and let's book a gathering or workshop today. dinaloves2scrap@bellsouth.net.
Also sign up to be a follower and you will get all my posts!
Dina