Card Front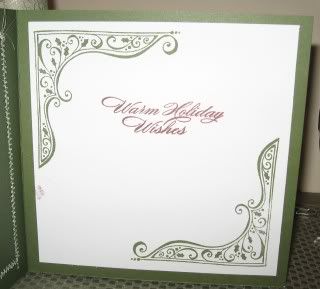 Inside card
Here is one of the Christmas Cards that I am working on this year. When I first saw this stamp set, I knew I wanted to make it into a Christmas card. It looks like my living room! I just used our Evergreen Christmas Tree stamp and cut it out and then popped it up on the front.
Let me know what you think! I am currently working on an Easy Christmas card workshop that I will show you in a couple of days. Then you can make your cards this year and it will only take a few hours. How special will that be for those you send them to.
Merry Christmas early to you all.
Happy Scrappin, Dina