Will's creation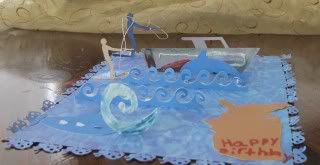 I had my grandson's with me this past weekend and Will, the youngest loves coming up with me to the craft room. He was in a creative mood so he wanted to make something. Well, something turned into a very specific project that his young mind thought up. I on the other hand, had to figure out how to make it all work the way he wanted it.
He also LOVES the Cricut! He would tell me what he wanted and the size he wanted it. He made a great diarama!!!!!It was for his daddy, my son's Birthday!!!!
See!!!! Even young boys can scrapbook!!! So you can too!!!!