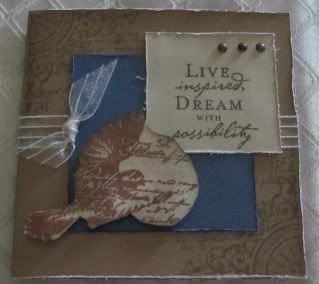 Well, I know that I have not been really consistent lately with my posts, but my life has been a little Topsy truvey lately. I was laid off from my job of 7 1/2 years. I found a new job and started within 2 weeks of leaving my old job! Praise the Lord!!!!!! Went on a small vacation and in the process of getting acclimated to new hours and a new job. BUT... I have managed to make a few things. Yeah!
If you are like me, if I can not create something,
I go stir crazy!!!!
The Card above is one that I made for my parent's anniversary. I purchased our new stamp set, Inspire and I love it! I used it to same color stamp the back ground, stamp the sentiment and the eagle. It is very versatile.
I challenge you to try something new. Try a stamp in a new way, like using it for a background accent. Send me your creations and I will send you something
Free!!!
Happy Scrappin'
dinaloves2scrap@bellsouth.net